Although the increase in sales prices of apartments slightly accelerated, it is difficult to expect major changes in the near future
2020-11-06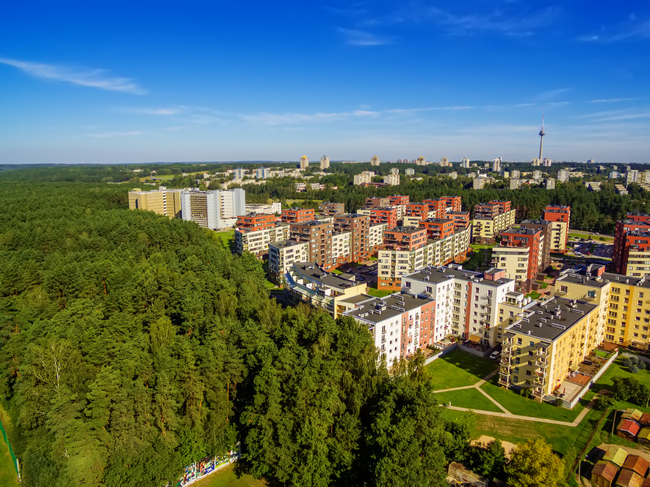 The Ober-Haus Lithuanian apartment price index (OHBI), which records changes in apartment prices in the five major Lithuanian cities (Vilnius, Kaunas, Klaipėda, Šiauliai and Panevėžys), increased by 0.4% in October 2020 (0.3% increase was recorded in September 2020). The annual apartment price growth in the major cities of Lithuania was 4.1% (the annual apartment price growth in September 2020 was 4.2%).
In October 2020 apartment prices in Vilnius, Kaunas, Klaipėda and Šiauliai grew by 0.3%, 0.3%, 0.6% and 0.4%
respectively with the average price per square meter reaching EUR 1,662 (+6 EUR/sqm), 1,176 (+4 EUR/sqm), 1,149 (+7 EUR/sqm) and EUR 765 (+3 EUR/sqm). In Panevėžys no price changes were recorded and average apartment price remained the same as in September – EUR 749.
In the past 12 months, the prices of apartments grew in all major cities: 4.6% in Vilnius, 3.4% in Kaunas, 2.1% in Klaipėda, 6.1% in Šiauliai and 6.2% in Panevėžys.
"Compared to March-August of 2020, in September-October the overall increase in prices in major cities of Lithuanian was slightly faster. Given the positive mood in the housing market in September and October, similar trends in price change could be expected. The numbers of housing transactions show that demand for housing and opportunities to purchase it remain high. For example, according to the State Enterprise Center of Registers, more than 3,600 apartments were purchased in Lithuania in October 2020 and historically this is one of the best results of the month.
However, the increase in the sales prices of apartments in 2020 is not as rapid as that in 2019 or early 2020 and it is likely that we will not see dramatic price changes in the remaining months of the year. Global lockdown introduced in November may again reduce the overall economic activity in the country and worsen the expectations of the population, which subsequently may lead to a further decline in the overall activity in the housing market in November and December. However, looking at the changes in the sales prices of apartments during the past ten months of the year, the overall annual result will in any case remain positive," Raimondas Reginis, Research Manager for the Baltics at Ober-Haus, said.
Full review (PDF): Lithuanian Apartment Price Index, October 2020