Euromoney: Ober-Haus named best real estate company in Lithuania for the fourth time
2021-09-14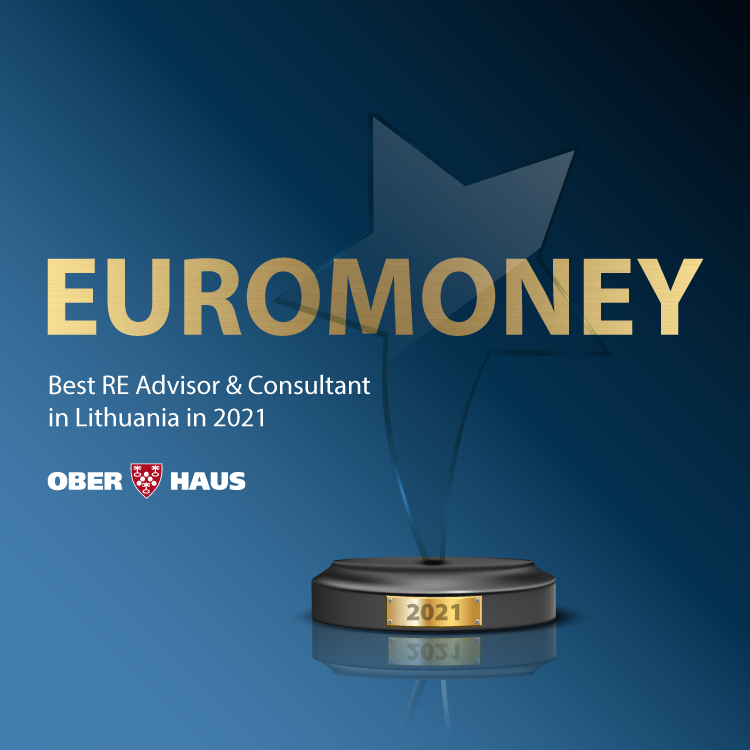 Euromoney, an international publisher on capital and financial markets, has ranked Ober-Haus as the best real estate advisor and consultant in Lithuania in 2021.
Euromoney has named Ober-Haus the top real estate agency in Lithuania in these four categories: Overall, Property Valuation, Agency-Letting/sales and Research, according to the results of the magazine's 17th annual Real Estate Survey of industry professionals for 2021.
"Our daily work, based on the values of excellence, transparency and respect for business relationships, is the basis for the long-lasting trust of our clients and many market participants. We provide services to businesses, individuals and the public sector. The appreciation of a wide range of clients is therefore very important to us. Euromoney awards are a pleasing recognition and at the same time an incentive to continue to set new standards in the market for the quality of integrated real estate services," Audrius Šapoka, general manager of Ober-Haus Lithuania, said.
Ober-Haus provides about 12,000 real estate related services per year. In 2020, Ober-Haus in Lithuania concluded nearly 1,200 real estate sales and lease deals, company also prepared more than 11,000 property valuation reports, valuation expert analyses and provided countless consultations to clients. Ober-Haus Market Research Department has been collecting unique data and preparing regular property market reports for more than 20 years. "The objectivity and market relevance of our data is evidenced by the fact that we are the most widely quoted by all media outlets, leading economic experts, the Bank of Lithuania and the country's leading commercial bank specialists," said Šapoka. In 2020, the Ober-Haus the real estate company had a turnover of €4.25 million excl. VAT.
The 17th annual real estate survey conducted by Euromoney  evaluated real estate companies by surveying Lithuanian real estate market participants (real estate experts, developers, representatives of construction companies and financial institutions) and assessing the company's services, assets under management, growth and other indicators. Ober-Haus has received the highest Euromoney ratings for the seventh year in a row and has been voted the best real estate company in Lithuania for the fourth time.
Ober-Haus is operating in Lithuania since 1998 and is the largest real estate services provider in Lithuania and the Baltic region. The company is part of Kiinteistömaailma – Finland's largest brokerage and real estate consulting company. The company's services package consists of brokerage services in buying, selling or letting commercial and residential property, property and business valuation, consultancy and market research. Today, Ober-Haus has 19 representative offices in the major cities of Lithuania, Latvia and Estonia and over 220 employees.